Testimonials
Derelict burned out vessel removal from public property.
It was very good to work with your team, thank you so much for the excellent job you did on this. Your patience, diligence and attention to detail were most appreciated.
Katy Weil
Metro Natural Areas
Stuck on a wing dam at night, in December
I would like to make a comment about the assistance I got from Capt. Ron during a recent emergency on the Columbia River. I was motoring on my 27' Balboa sailboat near
Salty's Restaurant at night, something I've done often. This time, however, tides and heavy rains brought the water level up very high. The distance from shore was deceiving, and pilings I usually am very aware of were mostly underwater. I motored over them and got stuck. I called Columbia River Marine Assistance and spoke to Capt. Ron, who was at a Christmas party, and was very happy to see that orange boat arrive after only a short wait. He tied alongside, hopped on board, and discovered that a horizontal log attached to the pilings was between the keel and rudder preventing me from motoring off. Together we removed the rudder mounts, me on in the lazarette and Ron leaning precariously over the transom. This freed the boat and allowed them to tow me upstream of the wing dam and away from danger. We docked at the 42nd street boat ramp to access the boat. Even though we found prop damage, I wanted to motor back. He wisely advised me to leave the boat there, take a ride on his boat back to the marina, and bring a new prop back tomorrow.
I appreciated the help and ride not just because it all went so efficiently and quickly, but because Capt. Ron and his crew, who happens to be his wife, are such likeable people. We've become friends since then.
Boat Towing
So Near and Yet So Far
It isn't always something complicated that gets your heart racing. With the first weekend cruise of the season just two days away, it was time to take the boat out for a shakedown run. A quick trip from Steamboat Landing to Donaldson's Fuel Dock seemed in order. Everything went PERFECT… right up until we were maybe 50 feet off the fuel dock and then NOTHING. The boat died and, with all the stubborn attitude of a boat, refused to start again. The current was strong but we lowered the anchor and it held tight. THANKFULLY, we are season pass members of Columbia River Marine Assistance and a quick call to Captain Ron was all it took. "We'll be there in 38 seconds" chuckled Ron. In all fairness, it took him more like 52 seconds. It was not lack of fuel that took us down (the possibility of which brought the chuckle to Ron's reply), but something as simple as moisture under the distributor cap. Bottom line, no matter what the cause, we know that we can count on Captain Ron and Ashley because we took a simple step… membership in Columbia River Marine Assistance. Wouldn't leave port without it!
Jon and Kathy Kolstad
"Reel Pleasure"
Washougal, WA

Prop Clearing
Last summer I wrapped a line around the prop on my Catalina 27 which stopped the engine. Fortunately I had a season pass with CRMA and called them immediately. They arrived within 10 minutes and quickly sized up the situation. Ron put on a dive suit, went under, and quickly unwrapped the sheet. They were professional, prompt, and solved the problem quickly. I felt it was well worth the cost of the pass.
Roger Cole
S/V "River Rose"
Portland, OR

Towing and Prop Clearing
On Memorial Day 2009 Steve and I were aboard our boat leaving the Portland Harbor and with the spring runoff in full swing we were unfortunate enough to find a submerged log right off. Bang, and all of a sudden, no steering at all. We tried calling our towing provider, but the number was disconnected. So we called Gary at Donaldson marina and he suggested giving Captain Ron a call at Columbia River Marine Assistance.
Ron and Ashley showed up in less than 20 minutes and got us hooked up and heading back home in no time. What a great service and always with a smile.
We have since joined their Season Pass program and used it when Steve caught someones shorts in the prop, luckily there wasn't any one in them at the time. Captain Ron gets out the dive gear and went for a swim, coming up with mangled shorts in his hand and a big grin. "Hey Steve", he asks, "where is the rest of the guy?"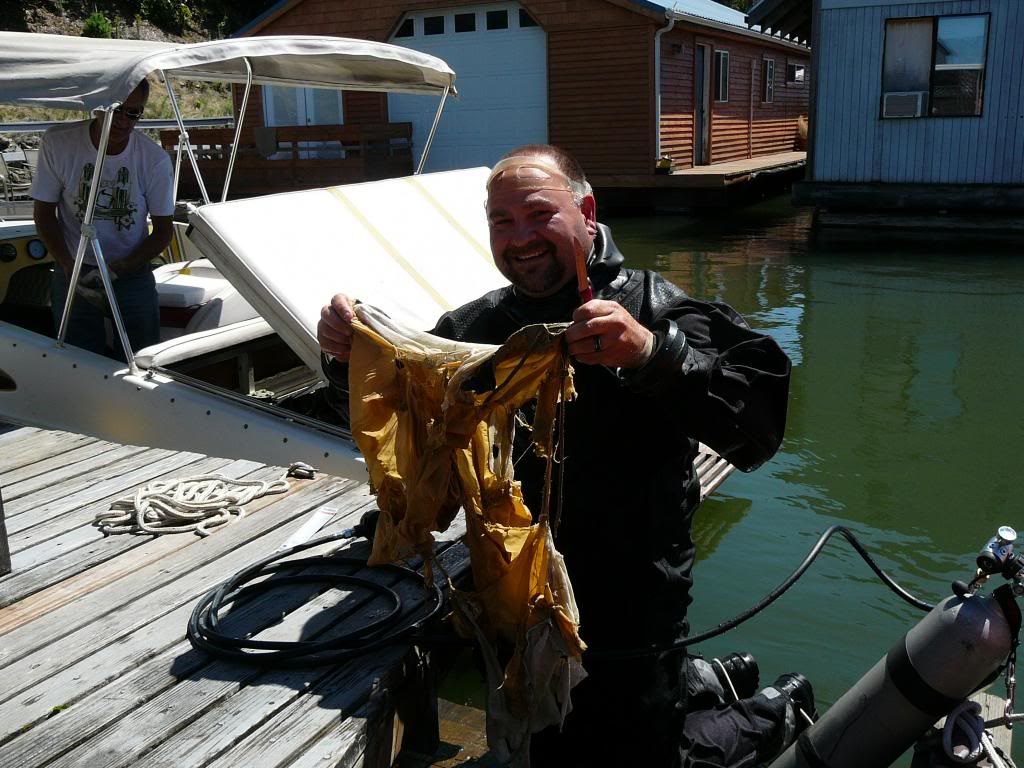 We highly recommend Captain Ron and Ashley from Columbia River Marine Assistance.
Steve and Kathy Paull
Portland, OR
Prop Clearing
When it all went wrong, Captain Ron was there for us. We were setting anchor to act as the committee boat for a sailing race and with wind opposing the current we managed to wrap our anchor line around the propeller. After more than an hour of attempting to free the line along with help from the chase boat, Ron showed up in his bright orange boat and offered a hand. We happily accepted and Ron donned the dive gear and went over the side speedily freeing the line and getting us underway. We are now Season Pass holders and hopefully will never need to call again, but knowing Columbia River Marine Assistance is nearby provides a pleasant peace of mind.
Gary Bruner
S/V "Shamrock"
Portland, OR.